Hatching: Experiments in Motherhood and Technology (Hardcover)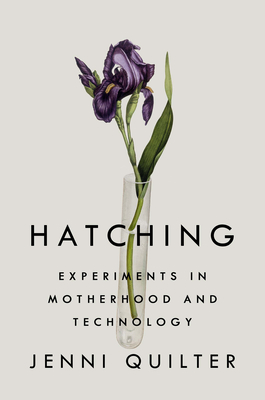 $28.00
Maybe Unavailable, Ask us
Description
---
A provocative examination of reproductive technologies that questions our understanding of fertility, motherhood, and the female body

Since the world's first test-tube baby was born in 1978, in vitro fertilization has made the unimaginable possible for millions of people, but its revolutionary potential remains unrealized. Today, fertility centers continue to reinforce conservative norms of motherhood and family, and infertility remains a deeply emotional experience many women are reluctant to discuss.
 
In this vivid and incisive personal and cultural history, Jenni Quilter explores what it is like to be one of those women, both the site of a bold experiment and a potential mother caught between fearing and yearning. Quilter observes her own experience with the eye of a critic, recounting the pleasures and pains of objectification: how medicine mediates between women and their bodies, how marketing redefines pregnancy and early parenthood as a set of products, how we celebrate the "natural" and denigrate the artificial. 
 
With nuance, empathy, and a fierce intellect, Quilter asks urgent questions about what it means to desire a child and how much freedom reproductive technologies actually offer. Her writing embraces the complexities of motherhood and the humanity of IVF: the waiting rooms, the message boards, and the genetic permutations of what a thoroughly modern family might mean.
About the Author
---
Jenni Quilter teaches at New York University. Her most recent book is New York School Painters & Poets: Neon in Daylight, for which she was a finalist for the 2014 AICA Award for Best Criticism. She has written for the Los Angeles Review of Books, The Times Literary Supplement (London), Poetry Review, and the London Review of Books.
Praise For…
---
Praise for Hatching:

"Quilter's memoir of conceiving a child through I.V.F. provides a history of the treatment and a sharp interrogation of her experiences." —The New Yorker

"A stunningly personal and cultural history of fertility, from the first test-tube baby in 1978 to the anxious message boards of parents-to-be today." —Book Riot

"Melding intimate memoir and enlightening medical history. . . . A sensitive, politically astute examination of reproduction." —Kirkus Reviews

"Profound. . . . This is a must-read for anyone considering IVF." —Publishers Weekly

"Sometimes books show up just when we need them to. Quilter accomplishes the rare feat of being both introspective and unflinching as she considers exactly what it means to become human." —Juli Berwald, author of Spineless and Life on the Rocks
 
"Quilter's brilliant searchlight lays bare all the ways a person assigned femaleness will find herself, in our late moment, dancing with questions of reproduction, technology, dominion. A timely intellectual, social, personal, and philosophical history, Hatching encompasses both the most intimate and far reaches, allowing us to see terrain anew and slightly defamiliarized." —Edie Meidav, author of Another Love Discourse
 
"As expert at reading the faces in a doctor's waiting room as she is at appraising a moment or era in wider human history, Jenni Quilter is an illuminating and intellectually dexterous tour-guide through the relatively uncharted field of fertility technology. Hatching is as multi-minded and heartfelt as it is genre-crossing and expansive." —Gregory O'Brien, author of Always Song in the Water
 
"Quilter's personal story of motherhood, woven with impressive scholarly rigor, produces a remarkable book. Her expansive use of archival documents, pop culture, and biography is unique and thrilling." —Lisa Jean Moore, Distinguished Professor of Sociology and Gender Studies, State University of New York, Purchase College