The Medicinal Chef: Plant-based Diet – How to eat vegan & stay healthy (Hardcover)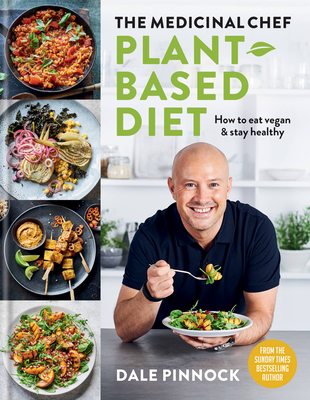 About the Author
---
Award-winning and highly qualified Medicinal Chef Dale Pinnock is the pre-eminent voice in eating for good health. A vocal, passionate and down-to-earth expert on the beneficial effects food can have on our health, Dale's enthusiasm and delicious recipes have proved irresistible during his many TV and radio appearances.

Dale is the bestselling author of The Medicinal Chef: Eat your Way to Better Health and the Guild of Food Writers award-winning Eat Your Way to Better Health, The Medicinal Chef: Healthy Every Day and The Power of Three; a ground-breaking series of books to target specific ailments - diabetes, depression, heart disease and digestion. Dale also the resident chef and nutritionist on ITV's Eat, Shop, Save, series 2 of which is coming out this Summer.
Dale is a global bestselling author and an award winning and qualified nutritionist and chef. He is a regular hit at Expo West.
Find out more about Dale on Twitter @dale_pinnock, Instagram @themedicinalchef and at www.dalepinnock.com.