The Legend of Obi-Wan Kenobi (Star Wars) (Little Golden Book) (Hardcover)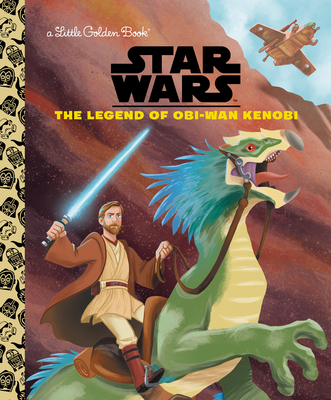 Description
---
An all-new Little Golden Book starring Jedi Knight Obi-Wan Kenobi from the Star Wars saga!

The legend of Jedi Knight Obi-Wan Kenobi is retold in this Star Wars Little Golden Book! A hero of the Clone Wars and the Rebellion, Obi-Wan battled Sith Lords Darth Maul and Darth Vader, helped destroy the Empire's Death Star, and guided Luke Skywalker in his quest to restore peace to the galaxy and balance to the Force. Featuring stunning retro stylized illustrations, this Little Golden Book stars everyone's favorite characters from the Star Wars saga. It is perfect for Star Wars--and Little Golden Book--fans of all ages.

Star Wars has captivated millions worldwide for almost forty years. The phenomenon began with the 1977 theatrical debut of Star Wars, later retitled A New Hope, and has expanded to include six additional major motion pictures (The Empire Strikes Back, Return of the Jedi, The Phantom Menace, Attack of the Clones, Revenge of the Sith, The Force Awakens, The Last Jedi, Solo: A Star Wars Story, and The Rise of Skywalker), television programming, publishing, video games, and much more, with new films coming every year.
About the Author
---
In 1942, the launch of Little Golden Books revolutionized children's book publishing by making high-quality picture books available at affordable prices. More than 60 years later, many of the original Golden Book titles are still wildly popular, with The Poky Little Puppy topping the list of ten bestselling children's books of all time. Golden Books' backlist is teeming with classics such as Dorothy Kunhardt's Pat the Bunny, and features the stories and artwork of children's book legends Mary Blair, Margaret Wise Brown, Richard Scarry, Eloise Wilkins, Garth Williams, and many more. Today, the Golden Books imprint includes an array of storybooks, novelty books, and coloring and activity books featuring all of the most popular licenses, including Disney, Nickelodeon, Barbie, Thomas & Friends, The Cat in the Hat, Sesame Street, Marvel Super Heroes, and DC Super Friends. Golden Books continues to reissue the best of its backlist in a variety of formats, including ebooks and apps, as well as bringing out brand-new books in these evolving new formats.