Sinkable: Obsession, the Deep Sea, and the Shipwreck of the Titanic (Hardcover)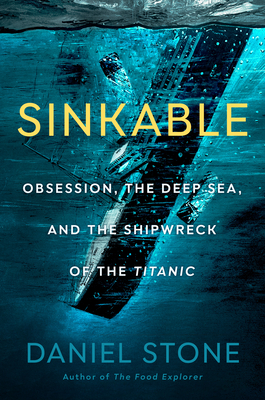 $28.00

In Warehouse, Usually Ships to Store in 1-5 Days
Description
---
From the national bestselling author of The Food Explorer, a fascinating and rollicking plunge into the story of the world's most famous shipwreck, the RMS Titanic
 
On a frigid April night in 1912, the world's largest—and soon most famous—ocean liner struck an iceberg and slipped beneath the waves. She had scarcely disappeared before her new journey began, a seemingly limitless odyssey through the world's fixation with her every tragic detail. Plans to find and raise the Titanic began almost immediately. Yet seven decades passed before it was found. Why? And of some three million shipwrecks that litter the ocean floor, why is the world still so fascinated with this one?
    In Sinkable, Daniel Stone spins a fascinating tale of history, science, and obsession, uncovering the untold story of the Titanic not as a ship but as a shipwreck. He explores generations of eccentrics, like American Charles Smith, whose 1914 recovery plan using a synchronized armada of ships bearing electromagnets was complex, convincing, and utterly impossible; Jack Grimm, a Texas oil magnate who fruitlessly dropped a fortune to find the wreck after failing to find Noah's Ark; and the British Doug Woolley, a former pantyhose factory worker who has claimed, since the 1960s, to be the true owner of the Titanic wreckage.
    Along the way, Sinkable takes readers through the two miles of ocean water in which the Titanic sank, showing how the ship broke apart and why, and delves into the odd history of our understanding of such depths. Author Daniel Stone studies the landscape of the seabed, which in the Titanic's day was thought to be as smooth and featureless as a bathtub. He interviews scientists to understand the decades of rust and decomposition that are slowly but surely consuming the ship. (It is expected to disappear entirely within a few decades!) He even journeys over the Atlantic, during a global pandemic, to track down the elusive Doug Woolley. And Stone turns inward, looking at his own dark obsession with both the Titanic and shipwrecks in general, and why he spends hours watching ships sink on YouTube.
    Brimming with humor, curiosity and wit, Sinkable follows in the tradition of Susan Orlean and Bill Bryson, offering up a page-turning work of personal journalism and an immensely entertaining romp through the deep sea and the nature of obsession.
About the Author
---
Daniel Stone is a writer on science, history, and the environment, as well as the author of the national bestselling The Food Explorer: The True Adventures of the Globe-Trotting Botanist Who Transformed What America Eats. He's a former staff writer for National Geographic and a former White House correspondent for Newsweek. He lives in Santa Barbara with his wife and two sons, one of whom is a dog.
Praise For…
---
"Stone's mastery of his subject and his novel approach to this so-often-told tale will compel even readers who think they already know too much about the Titanic to take a plunge into this fresh narrative."—Booklist, starred review

"Incisive and entertaining history... Colorful personalities, astute cultural analysis, and fascinating details about the science of shipwrecks and the mechanics of salvage operations make this a must-read for Titanic buffs."—Publishers Weekly

"From the beginning of the narrative, Stone effectively draws readers in with his own great storytelling skills. A captivating read for Titanic and maritime enthusiasts."—Kirkus

"The details are exquisite, the science is insightful and the personalities of the men who seek, and even claim, shipwrecks is over-the-top entertaining. A delightful read about humanity's fascination and obsession with the sea and sea-wrecks."—Library Journal

"Since time immemorial, shipwrecks have captivated the human imagination and continually ensnared the minds and fates of obsessives all over the world—a curious tribe of mavericks, visionaries, and nerds. In this nimble, wide-ranging work of reportage, Daniel Stone gamely chronicles a decidedly idiosyncratic subculture while bringing to the surface a wealth of bizarre stories, arresting details, and other narrative treasures from the ocean depths."—Hampton Sides, New York Times bestselling author of In the Kingdom of Ice
 
"So many of us grew up living with the ghost of the Titanic without realizing that she was still alive, only in another form. Daniel Stone pushes back the murky waters of the ocean to reveal the secret second phase of a ship's life, the one that occurs after it has disappeared from the view of all humanity, except for intrepid explorers and daring optimists. The story is beautifully written, captivating from the first line, and an engrossing reminder of the inextricable link between those of us living above the ocean, and the things lurking below it. Including the shipwrecks."—Rachel Lance, author of In the Waves: My Quest to Solve the Mystery of a Civil War Submarine