The Legend Of Sigurd And Gudrún (Paperback)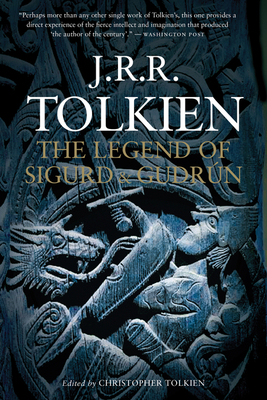 $17.99

In Warehouse, Usually Ships to Store in 1-5 Days
Description
---
Many years ago, J.R.R. Tolkien composed his own version of the great legend of Northern antiquity, recounted here in The Legend of Sigurd and Gudrún. In the Lay of the Völsungs is told the ancestry of the great hero Sigurd, the slayer of Fáfnir, most celebrated of dragons; of his awakening of the Valkyrie Brynhild, who slept surrounded by a wall of fire, and of their betrothal; and of his coming to the court of the great princes who were named the Niflungs (or Nibelungs), with whom he entered into blood-brotherhood. In scenes of dramatic intensity, of confusion of identity, thwarted passion, jealousy, and bitter strife, the tragedy of Sigurd and Brynhild, of Gunnar the Niflung and Gudrún his sister, mounts to its end in the murder of Sigurd, the suicide of Brynhild, and the despair of Gudrún. The Lay of Gudrún recounts her fate after the death of Sigurd, her marriage against her will to the mighty Atli, ruler of the Huns (the Attila of history), his murder of her brothers, and her hideous revenge.
About the Author
---
J.R.R. Tolkien (1892–1973) was a distinguished academic, though he is best known for writing The Hobbit, The Lord of the Rings, and The Silmarillion, plus other stories and essays. His books have been translated into over sixty languages and have sold many millions of copies worldwide.
Christopher Tolkien (1924–2020) was the third son of J.R.R. Tolkien. Appointed by Tolkien to be his literary executor, he devoted himself to the editing and publication of unpublished writings, notably The Silmarillion, Unfinished Tales, and The History of Middle-earth.