Graceling (Graceling Realm) (Paperback)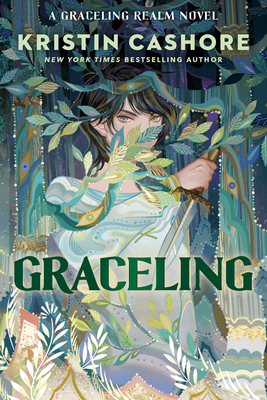 Winter 2009 Kids' List
---
"In a world where some people are born with extreme and often feared skills -- called Graces -- Katsa struggles for redemption from her own horrifying Grace, that of killing, and teams up with another young fighter to save their land from a corrupt king. Action-packed and featuring a strong, feisty girl."
— Kristi Tiedt, Butterfly Books, De Pere, WI
Description
---
Enter the Graceling Realm with the beloved story that started it all, from New York Times best-selling author Kristin Cashore.

Katsa is a Graceling, one of the rare people born with an extreme skill. As niece of the king, she lived a life of privilege until the day her ability to kill a man with her bare hands revealed itself during a royal banquet. Now she acts as her uncles enforcer, traveling the kingdom and threatening those who dare oppose him.

But everything changes when she meets Po, a foreign prince Graced with combat skills who is searching for the truth about his grandfathers disappearance. When Katsa agrees to help him, she never expects to learn a new truth about her own Graceor about a terrible secret that could destroy them all.
About the Author
---
Kristin Cashore is author of many New York Times best-selling books, including Graceling, Fire, Bitterblue, and Jane, Unlimited. She received a master's from the Center for the Study of Children's Literature at Simmons College, and she has worked as a dog runner, a packer in a candy factory, an editorial assistant, a legal assistant, and a freelance writer. She currently lives in the Boston area.
kristincashore.blogspot.com
Twitter: @kristincashore
Praise For…
---
A New York Times bestseller
ALA Best Book for Young Adults
Mythopoeic Fantasy Award for Children's Literature Winner
Publishers Weekly, School Library Journal,Booklist, and BCCB Best Book of the Year

"In this debut fantasy, Cashore treats readers to compelling and eminently likeable characters and a story that draws them in from the first paragraph. . . . This is gorgeous storytelling: exciting, stirring, and accessible. Fantasy and romance readers will be thrilled." --School Library Journal, starred review
"Intrigue, death, love, a little sex, and pitched battles create a sure winner for mature fantasy fans."--VOYA (4Q, 4P)
"With a butt-kicking but emotionally vulnerable heroine, [Graceling] should appeal to fans of recent girl-power urban fantasies, as well as readers who've graduated from Tamora Pierce's Tortall series."--Horn Book
"Cashore strikes a strong balance between adventure, drama and romance--bloody battles and sexual tension co-exist in equal measure--and Katsa's combination of pride in her unique talents and vulnerability in her self-doubts make her a strongly sympathetic character. Readers will identify closely with this young woman, whose coming of age also involves coming to terms with a talent that is both a blessing and a curse."--BookPage, November 2008
"Graceling is the wonderful new book by Kristin Cashore about a girl with grace, but who is no Audrey Hepburn. Katsa's extreme special skill, her grace, is that she's able to kill people with her bare hands (ouch). In a world of seven kingdoms, Katsa is certainly considered a bad-ass and is respectably feared. Ultimately though, the graceling ends up being shamelessly used by her own family to fight and torture their enemies... until she meets Po . . . There's been a ton of early praise about this debut novel -- so much so that I think it's safe to say there's an official buzz."--Ypulse
"However, as in every season, a few other titles have risen to the surface as potential hits, based on pre-pub buzz, online chatter and word-of-mouth. We've singled out four for particular notice: three are inventive fantasy novels, and one is a harrowing memoir. Publishers and booksellers alike believe these books have what it takes to cut through the noise of a very full season."--Publishers Weekly online
"The teenage characters in this novel, like those we may know in life, grow into their graces. They realize that their monstrous individuality is not so monstrous afterall."--The New York Times Book Review
"Discovering one's true identity and powers is a common theme in young adult literature, but Kristin Cashore, with compelling characters and an ease in combining genres--fantasy, mystery, adventure, romance--develops this theme with enormous freshness."--Newsday
" 'Graceling' offers a fresh view of the process of learning self-mastery and has a knee-weakening romance that easily rivals that of 'Twilight'."--LA Times
ADVANCEPRAISE FORGraceling:
Heres a WOW of a book! Seeing half-wild Katsa learn humanity as she battles soldiers, storms, and her own obsessive natureI HAD to know how it ended! Tamora Pierce
Katsa and Po are wonderful: They make me want to cheer. Due to a strong heroine, a supportive hero, political intrigue, and action throughout, this is a book Ill share with my daughter. Melissa Marr, author of Wicked Lovely
I cant remember when I last was this impressed by a new fantasy. Kristin Cashores voice is fresh and fluent...the end result is a story that you tear through so that you can immediately start again at the beginning and read it with the care it deserves. A truly spectacular novel. Susan Hirschman, founder of Greenwillow Books
FROM THE AUTHOR:
Ive always been a daydreamer; as a child I always lived far from school, and distinctly remember cherishing the long drive, because it was good daydreaming time.Graceling grew from daydreams I had about a girl with extraordinary fighting powers who loved a boy with whom she was insurmountably incompatible. Kristin Cashore