Harry Potter and the Order of the Phoenix (Paperback)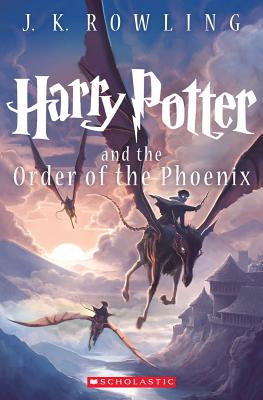 $14.99
Maybe Unavailable, Ask us
Other Books in Series
This is book number 5 in the Harry Potter series.
Description
---
This special edition of HARRY POTTER AND THE ORDER OF THE PHOENIX has a gorgeous new cover illustrated by Kazu Kibuishi. Inside is the full text of the original novel with decorations by Mary GrandPreThere is a door at the end of a silent corridor. And it's haunting Harry Potter's dreams. Why else would he be waking in the middle of the night, screaming in terror?It's not just the upcoming O.W.L. exams; a new teacher with a personality like poisoned honey; a venomous, disgruntled house-elf; or even the growing threat of He-Who-Must-Not-Be-Named. Now Harry Potter is faced with the unreliability of the very government of the magical world and the impotence of the authorities at Hogwarts.Despite this (or perhaps because of it), he finds depth and strength in his friends, beyond what even he knew; boundless loyalty; and unbearable sacrifice.
About the Author
---
J. K. Rowling is the author of the beloved, bestselling, record-breaking Harry Potter series. She started writing the series during a delayed Manchester to London King's Cross train journey, and during the next five years, outlined the plots for each book and began writing the first novel. Harry Potter and the Sorcerer's Stone was published in the United States by Arthur A. Levine Books in 1998, and the series concluded nearly ten years later with Harry Potter and the Deathly Hallows, published in 2007. J. K. Rowling is the recipient of numerous awards and honorary degrees including an OBE for services to children's literature, France's Légion d'Honneur, and the Hans Christian Andersen Literature Award. She supports a wide number of causes through her charitable trust Volant, and is the founder of Lumos, a charity working to transform the lives of disadvantaged children. J. K. Rowling lives in Edinburgh with her husband and three children.

Kazu Kibuishi is the creator of the New York Times bestselling Amulet series and Copper, a collection of his popular webcomic. He is also the founder and editor of the acclaimed Flight anthologies. Daisy Kutter: The Last Train, his first graphic novel, was listed as one of the Best Books for Young Adults by YALSA, and Amulet, Book One: The Stonekeeper was an ALA Best Book for Young Adults and a Children's Choice Book Award finalist. Kazu lives and works in Alhambra, California, with his wife and fellow comics artist, Amy Kim Kibuishi, and their two children. Visit Kazu online at www.boltcity.com.

Mary GrandPré has illustrated more than twenty beautiful books for children, including the American editions of the Harry Potter novels. Her work has also appeared in the New Yorker, the Atlantic Monthly, and the Wall Street Journal, and her paintings and pastels have been shown in galleries across the United States. Ms. GrandPré lives in Sarasota, Florida, with her family.