Chicago on the Make: Power and Inequality in a Modern City (Paperback)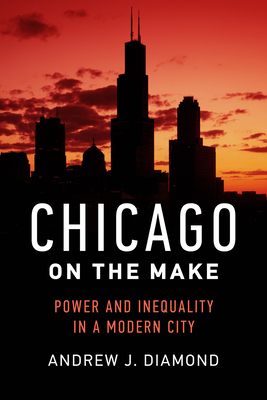 $29.95

In Warehouse, Usually Ships to Store in 1-5 Days
Description
---
"Effectively details the long history of racial conflict and abuse that has led to Chicago becoming one of America's most segregated cities. . . . A wealth of material."—New York Times 

Winner of the 2017 Jon Gjerde Prize, Midwestern History Association

Winner of the 2017 Award of Superior Achievement, Illinois State Historical Society

Heralded as America's quintessentially modern city, Chicago has attracted the gaze of journalists, novelists, essayists, and scholars. Yet few historians have attempted big-picture narratives of the city's transformation over the twentieth century. Chicago on the Make traces the evolution of the city's politics, culture, and economy as it grew from an unruly tangle of rail yards, slaughterhouses, factories, tenement houses, and fiercely defended ethnic neighborhoods into a global urban center. Reinterpreting the narrative that Chicago's autocratic machine politics shaped its institutions and public life, Andrew J. Diamond demonstrates how the grassroots politics of race crippled progressive forces and enabled an alliance of downtown business interests to promote a neoliberal agenda that created stark inequalities. Chicago on the Make takes the story into the twenty-first century, chronicling Chicago's deeply entrenched social and urban problems as the city ascended to the national stage during the Obama years.
About the Author
---
Andrew J. Diamond is Professor of American History at Sorbonne Université. He is the author or coauthor of numerous articles and books on the history of race, politics, and political culture in the urban United States, including Mean Streets: Chicago Youths and the Everyday Struggle for Empowerment in the Multiracial City, 1908–1969.


Praise For…
---
"Diamond skillfully weaves together economics, politics, and culture. . . .  Wonderful, meticulously researched."
— Choice
"Effectively details the long history of racial conflict and abuse that has led to Chicago becoming one of America's most segregated cities. . . . A wealth of material."
— New York Times Book Review
"One of its defining features is that it centers on Chicago's history of racial conflict, tracing how the city's transformation into a global metropolis systemically excluded blacks and perpetuated inequality."
— New York Times
"Readers who are unfamiliar with the myriad facets of Chicago politics and development will be richly rewarded by the account presented here."
— International Journal of Urban and Regional Research
"Diamond stakes out a passionate critique of the political sources of injustice in Chicago, which should frame the debate over the city's rebirth for some time to come."
— American Historical Review
"Diamond's book, for anyone looking to actually understand the 'how' and 'why' of what has been called the most American of cities, does both of these concepts laudable justice. . . . Chicago on the Make combines a 'play the hits' version of Chicago's history with refreshingly new analysis and insight crucial to scholars interested in urban studies and in the real national significance of Chicago."

 
— Chicago Review
"Diamond offers a strikingly coherent, almost linear, narrative, filled with colorful, larger-than-life, evil characters. . . . A compelling narrative linking the mid-twentieth-century politics of race and the late twentieth-century political machine to the toxic injustice that haunts early twenty-first-century Chicago—and America."  
— Journal of Interdisciplinary History