The Mystery of the Moon Tower (The Pathfinders Society) (Hardcover)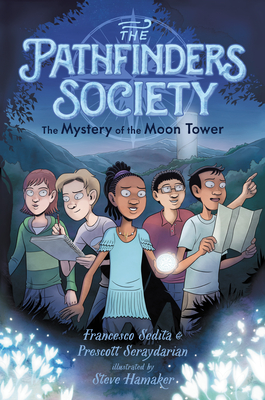 Other Books in Series
Description
---
"A legendary hidden treasure, an eccentric guy who collects stuff in a mysterious castle, and five cool kids trying to connect the dots and save the day, all of it brilliantly illustrated. WHAT'S NOT TO LOVE HERE?"
--MAX BRALLIER, author of the NYT bestselling series The Last Kids on Earth

Summer camp just became a whole lot more interesting when five curious kids accept a mysterious project: work together as a team to uncover a series of strange clues, reveal a secret path--and follow its twists and turns to a legendary treasure!

Join in the fun in this lively, clever debut graphic novel sure to appeal to fans of the Last Kids on Earth and Lumberjanes series.

Kyle is a new kid in town who likes to draw. Vic is a cool cheerleader who's secretly a math whiz. Quiet Beth is a history buff, while goofball Harry likes performing magic tricks, with the help of his patient wingman, Nate. Five kids unlikely to form a team, for sure.

But then they're thrown together at summer camp, where they watch a grainy old movie about the history of their town, Windrose, and one of its illustrious citizens of a bygone era: the intrepid explorer-inventor Henry Merriweather. He's the one who established their camp. Merriweather's Camp Pathfinders' motto? Plus Ultra: more beyond!

The five kids soon find there is indeed "more beyond" in their pokey town with its weird weather and sudden geysers of smelly air. Deciphering a route of historical markers leads them to Merriweather's old castle, which is lined with ornate, beautiful tiles in hallways that lead to secret rooms full of odd objects--and where time itself is warped!

Kyle, Vic, Beth, Harry, and Nate witness scenes from Merriweather's past and realize his experiments and eccentricities are pointing toward a path--that could lead to the rumored lost treasure of Windrose.

This is the path our heroes are meant to follow, on a journey that will take them back and forth through time, through woods, and across waterways revealed by moonlight, right up to the looming Moon Tower itself--which holds Merriweather's secret . . . and the treasure!
About the Author
---
Francesco Sedita likes to make lots of things:This book is one of them. Other things he has created are the Miss Popularity books series, the Emmy-winning Who Was? Show on Netflix (which he made with his co-author Prescott!), as well as lots of other books in his job at Penguin Young Readers: like Mad Libs, WhoHQ bestsellers, and other books with amazing authors like Henry Winkler, Lin Oliver, Giada De Laurentiis, and even Dolly Parton.

When he isn't making stuff, Francesco is cooking in his apartment in New York City, or binge-watching a series with his husband, or playing with their cute cat, Alfredo. Visit him at francescosedita.com

Prescott Seraydarian is a children's video producer and educator. He is the owner-director of Lunch Productions, an award-winning production company whose partners include Penguin Random House, Scholastic, and NBC Universal. He also teaches film and lives at the George School, a Quaker boarding school in Newtown, PA.

Steve Hamaker is the Eisner Award-winning colorist of bestselling graphic novel series such as Bone by Jeff Smith and HiLo by Judd Winick. He has also colored online comic series and created his own original webcomic PLOX. An avid tabletop and video gamers, Steve lives in Columbus, Ohio, with his wife and son. Follow him on Twitter @Stevehamaker.
Praise For…
---
"Sedita, Seraydarian, and Hamaker's series debut zips along nicely, mixing cryptic teases with affable characters. The hints of magic in the snappy illustrations add another layer of allure. Featuring flashes of time slips and a racially diverse cast, this graphic novel hits all the right spots for the inevitable sequel.Like the pathfinders, readers will be crying, "Plus Ultra!" and hoping for the next adventure."
—Kirkus Reviews

"A promising new mystery series....[The] suspenseful adventures provide the foundation for many unexpected twists and will keep readers turning the pages."
—School Library Connection

"Sedita and Seraydarian bring much enthusiasm to the project, and the historical basis of Merriweather's story, the real-life Henry Mercer and Mercer Museum of Doylestown, Pa., is certain to intrigue. Eisner Award–winning colorist Hamaker contributes antic scenes of the campers and richly depicts historic maps and [settings]."
—Publishers Weekly

"The narrative is simple and likely to appeal to reluctant readers, and the engaging, vibrant illustrations help move the plot along. Readers will relate to the characters and be drawn into the narrative. This first book in an adventure-filled mystery graphic novel series will garner fans. Tweens will have fun with this quick read whose open ending will leave readers wanting to know more."
—School Library Journal

"Indiana Jones–style clever, and the thematic joy of searching is hard to resist. Characters' personalities are easily accessible and each is visualized in clean, elegant strokes, while the backgrounds are lavishly detailed, most appropriate for a story about discovering secrets in strange places."
—Booklist