The Foods of the Greek Islands: Cooking and Culture at the Crossroads of the Mediterranean (Hardcover)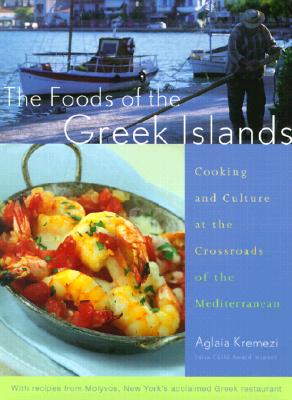 $40.00
Maybe Unavailable, Ask us
Description
---
Stretching from the shores of Turkey to the Ionian Sea east of Italy, the Greek islands have been the crossroads of the Mediterranean since the time of Homer. Over the centuries, Phoenicians, Athenians, Macedonians, Romans, Byzantines, Venetians, Ottoman Turks, and Italians have ruled the islands, putting their distinctive stamp on the food.
Aglaia Kremezi, a frequent contributor to GOURMET and an international authority on Greek food, spent the past eight years collecting the fresh, uncomplicated recipes of the local women, as well as of fishermen, bakers, and farmers. Like all Mediterranean food, these dishes are light and healthful, simple but never plain, and make extensive use of seasonal produce, fresh herbs, and fish. Passed from generation to generation by word of mouth, most have never before been written down. All translate easily to the American home kitchen: Tomato Patties from Santorini; Spaghetti with Lobster from Kithira; Braised Lamb with Artichokes from Chios; Greens and Potato Stew from Crete; Spinach, Leek, and Fennel Pie from Skopelos; Rolled Baklava from Kos.
Illustrated throughout with color photographs of the islanders preparing their specialties and filled with stories of island history and customs, THE FOODS OF THE GREEK ISLANDS is for all cooks and travelers who want to experience this diverse and deeply rooted cuisine firsthand.
Praise For…
---
"As much a travel book as any tourist guide . . . not just because of its lush pictures, but because it's a real working guide to preparing the traditional dishes found all over Greece."

Newsweek

"In addition to a generous sampling of unusual dishes, Kremezi presents a detailed background on regional cuisine . . . The recipes are not overly complicated, and offer new ideas for familiar ingredients."

USA Today

"Gorgeous, authoritative."

Atlantic Monthly

"Full of treats and remarkably appetizing . . . There is splendid stuff here, particularly for vegetarians."

The Times of London

"Kremezi brings historical perspective to each recipe." People Magazine

"[The Foods of the Greek Islands] is the genuine item...it reads like a love letter to her native land...with it's tempting photos and recipes it's the next best thing to a cruise through the greek islands." Time Magazine

"The Julia Child Award-winning author returns with an equally engaging, personal take on the foods of Greece's many islands." Publishers Weekly, Starred

Aglaia Kremezi's new cookbook brings the flavors of the Mediterranean to tables everywhere. --Sheryl Julian and Julie Riven Boston Globe

"An astonishing collection . . . by the doyenne of Greek food writers." - Food & Wine

"I had to restrain myself from scrawling 'must try' beside yet another recipes in Aglaia Kremezi's FOODS OF THE GREEK ISLANDS. In this book, her fourth, Kremezi could do for people who assume that Greek food involves little beyond moussaka and egg-lemon glop what Marcella Hazan did for people who thought Italian food was all veal marsala and lasagna. The author has combined her reportorial skills, scholarly interests and superb instincts as a cook who knows both American and Greek kitchens to produce recipes that are simple, direct yet exciting." New York Times Book Review Notable Book