The True American: Murder and Mercy in Texas (Paperback)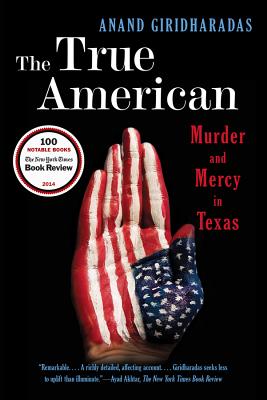 Description
---
Winner of the NYPL Helen Bernstein Book Award for Excellence in Journalism

Named a Best Book of the Year by the New York Times, the Boston Globe, NPR, and Publishers Weekly



"Haunting.…[A]mong the most riveting nonfiction I have read in a long time.…The True American gives you new eyes on your nation, makes you wonder about both the recent South Asian immigrant behind the counter at the food mart and the tattooed white man behind you in line." —Eboo Patel, Washington Post
The True American tells the story of Raisuddin Bhuiyan, a Bangladesh Air Force officer who dreams of immigrating to America and working in technology. But days after 9/11, an avowed "American terrorist" named Mark Stroman, seeking revenge, walks into the Dallas minimart where Bhuiyan has found temporary work and shoots him, maiming and nearly killing him. Two more victims, at other gas stations, die instantly.
The True American traces the making of these two men, Stroman and Bhuiyan, and of their fateful encounter. It follows them as they rebuild shattered lives—one striving on death row to become a better man, the other to heal and pull himself up from the lowest rung on the ladder of an unfamiliar country. Ten years after the shooting, an Islamic pilgrimage seeds in Bhuiyan a strange idea: if he is ever to be whole, he must reenter Stroman's life. He longs to confront Stroman and speak to him face to face about the attack that changed their lives. Bhuiyan publicly forgives Stroman, in the name of his religion and its notion of mercy. Then he wages a legal and public-relations campaign, against the state of Texas and Governor Rick Perry, to have his attacker spared from the death penalty.
Ranging from Texas's juvenile justice system to the swirling crowd of pilgrims at the Hajj in Mecca; from a biker bar to an immigrant mosque in Dallas; from young military cadets in Bangladesh to elite paratroopers in Israel; from a wealthy household of chicken importers in Karachi, Pakistan, to the sober residences of Brownwood, Texas, The True American is a rich, profoundly moving exploration of the American dream in its many dimensions. It helps us to consider our love-hate relationship with immigrants, the underpinnings of domestic terrorism, and how—or whether—we choose what we become.
About the Author
---
Anand Giridharadas is a writer, on-air political analyst for NBC News and MSNBC, and a visiting scholar at the Arthur L. Carter Journalism Institute at New York University. He is the author of India Calling, The True American, and Winners Take All. He lives in Brooklyn, New York, with his wife, Priya Parker, and two children.
Praise For…
---
The suspense in this book runs deeper than whether Stroman will live or die. Mr. Giridharadas is most interested in examining the viability of the American dream…an enterprising and clear-eyed reporter.
— Stephen Harrington - Wall Street Journal

Chilling…[D]ares to ask whether Americans can still claim the American dream.
— Oprah.com

Moving and indelible…manifestly inspirational…[A] finely textured portrait of lower-class despair.
— Laura Miller - Salon

A riveting tale, dense with detail, from Giridharadas' unflinching descriptions of the struggling neighborhoods on the eastern edge of Dallas, to Stroman's troubled and brutal childhood, to the ebullient optimism of these new Americans determined to create better lives.
— Michael E. Young - Dallas Morning News

Masterful reporting…Thoroughly compelling.
— Kate Tuttle - Boston Globe

Those interested in both the best and worst of what it means to be American should read The True American…[T]he book is too well-written and the characters are too fascinating to miss.

— Amy Kamp - Austin Chronicle

A truly fine book.
— David Brooks

An enthralling real-life tale of murder and forgiveness…enthralling.
— Walter Isaacson, author of Steve Jobs

Exhilarating and deeply affecting, Giridharadas's book is not only a captivating narrative; it reminds us of the immigrant's journey at the heart of the American story and how, in the wake of violent tragedy, one new to our country can help us to see through to the best in ourselves, even when the law requires far less.
— Henry Louis Gates, Jr., Alphonse Fletcher University Professor, Harvard University

Simply impossible to put down. Just when we thought that we had read everything we could possibly absorb about 9/11, The True American finds a new and compelling perspective, one that explores two sharply opposed dimensions of the American experience in a style that neither celebrates nor condemns. We readers become the jury, weighing what it means to be a true American today.

— Anne-Marie Slaughter, president and CEO of the New America Foundation

An unforgettable story about two men caught in the jaws of history. In this compassionate, tenacious, and deeply intelligent book, Giridharadas casts brilliant new illumination on what we mean by 'American.'
— Teju Cole, author of Open City