The Fourteenth Goldfish (Paperback)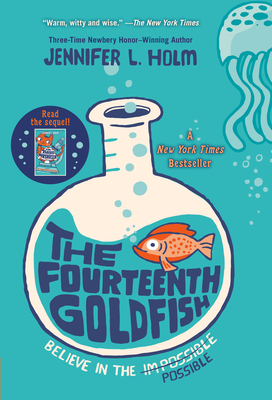 Description
---
Believe in the possible . . . with this New York Times bestseller by three-time Newbery Honor winner Jennifer L. Holm. A perfect read about a child's relationship with her grandfather!
 
Galileo. Newton. Salk. Oppenheimer. Science can change the world . . . but can it go too far?
 
Eleven-year-old Ellie has never liked change. She misses fifth grade. She misses her old best friend. She even misses her dearly departed goldfish. Then one day a strange boy shows up. He's bossy. He's cranky. And weirdly enough . . . he looks a lot like Ellie's grandfather, a scientist who's always been slightly obsessed with immortality. Could this gawky teenager really be Grandpa Melvin? Has he finally found the secret to eternal youth?
 
With a lighthearted touch and plenty of humor, Jennifer Holm celebrates the wonder of science and explores fascinating questions about life and death, family and friendship, immortality . . . and possibility. Look for EXCLUSIVE NEW MATERIAL in the paperback—including Ellie's gallery of scientists and other STEM-appropriate features.

And don't miss the much-anticipated sequel, The Third Mushroom!
 
"Warm, witty, and wise." —The New York Times
 
* "Written in a clean, crisp style, with lively dialogue and wit, this highly accessible novel will find a ready audience." —Booklist, Starred
 
* "Top-notch middle-grade fiction." —Publishers Weekly, Starred
 
* "Ellie's memorable journey into the world of science will inspire readers to explore the world around them and celebrate the possible." —Shelf Awareness, Starred
 
"Awesomely strange and startlingly true-to-life. It makes you wonder what's possible." —Rebecca Stead, Newbery Medal–winning author of When You Reach Me

25 STATE AWARD LISTS including the Sunshine State!
About the Author
---
JENNIFER L. HOLM's father was a pediatrician and she grew up listening to him talk about the wonder of antibiotics and how science could change the world. Today Jennifer is the New York Times bestselling author of three Newbery Honor books, as well as the co-creator of the Babymouse series (an Eisner Award Winner) and the Squish series, both of which she collaborates on with her brother, Matthew Holm. Find out more about her by visiting jenniferholm.com and look for her on Twitter at @jenniholm.
Praise For…
---
Publishers Weekly starred review, May 26, 2014:
"This is top-notch middle-grade fiction with a meaty dilemma, humor, and an ending that leaves room for the possibility of a sequel. "

Booklist starred review, July 1, 2014:
"A great choice for book groups and class discussions as well as individual reading."

New York Times Books Review, August 24, 2014:
""Youth, old age, life, death, love, possibilities, and – oh yes – goldfish all come together in this warm, witty and wise novel."

The Bulletin of the Center for Children's Books, September 2014:
"Holm's writing is crisp, accessible, and well paced, and her enthusiasm for science and its impact emerges clearly and consistently but not overbearingly, with clear, appreciative nods to the world of theater and its purpose in our lives. Indeed, this novel explores weighty elements of human existence with a light touch, allowing readers to engage with the issues at multiple levels; an excellent appendix of recommended readings encourages exploration and dialogue. This novel would make an ideal classroom read aloud, particularly to expose students to the rich and rewarding STEM fields."