The Children of Húrin (Pre-Lord of the Rings) (Mass Market)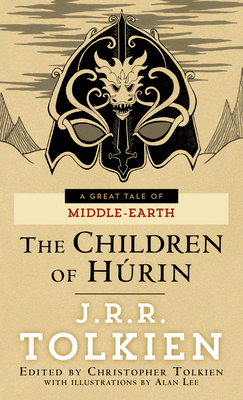 $8.99

In Warehouse, Usually Ships to Store in 1-5 Days
Description
---
Long before the One Ring was forged in the fires of Mount Doom, one man—Húrin—dared to defy Morgoth, the first and greatest of the dark lords to plague Middle-earth. Thus did he and his children, Túrin and Niënor, earn the enmity of a merciless foe that would shape the destiny of all the ages to come.

Only J.R.R. Tolkien, the undisputed master of the fantastic, could have conceived this magical tale of Elves and Men united against a brutal foe. And only Christopher Tolkien, the master's son and literary heir, could have fit the pieces of his father's unfinished work together with such deep understanding and consummate artistry. With an introduction and appendiCes by Christopher Tolkien, who has also contributed maps and genealogy tables, and eight stunning paintings and twenty-five pencil drawings by Oscar-winning artist Alan Lee, The Children of Húrin at last takes its proper place as the very cornerstone of J.R.R. Tolkien's immortal achievement.
About the Author
---
John Ronald Reuel Tolkien was born on January 3, 1892, in Bloemfontein, South Africa. After serving in World War I, he embarked upon a distinguished academic career and was recognized as one of the finest philologists in the world. He was a professor of Anglo-Saxon at Oxford, a fellow of Pembroke College, and a fellow of Merton College until his retirement in 1959. He is, however, beloved throughout the world as the creator of Middle-earth and author of such classic works as The Hobbit and The Lord of the Rings. He died on September 2, 1973, at the age of 81.

Praise For…
---
"[A] superb addition to the Tolkien canon."—Chicago Sun-Times

 
"A GEM . . . TOLKIEN'S LEGACY IS DEEPENED."—Minneapolis Star Tribune

"Years from now, when our present day is as remote from men and women (or cyborgs) as the events of the First Age were to the Council of Elrond, people may still tell tales out of Middle-earth. If so, The Children of Húrin will be one of them."—Washington Post