Snakes: A Fully Illustrated, Authoritative and Easy-to-Use Guide (A Golden Guide from St. Martin's Press) (Paperback)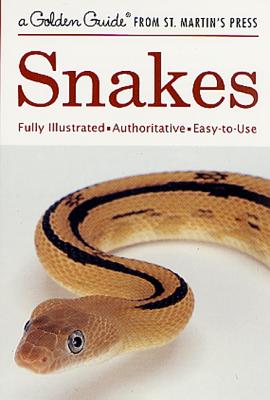 Description
---
Snakes, the best-known members of the reptile family, are some of the most popular animals in the world today. With over 120 species in the United States alone (including 17 poisonous varieties), snakes thrive in every region of the country. From the Rainbow snakes to the Western shovelnose snake to the Sharptail snake, dozens of species are shown in beautifully draw detail. Anatomy, behavior, reproduction, and geographic distribution are included in the engaging text. Despite their reputation, this book explains how Snakes are an essential component of the web of life.
About the Author
---
Sarah Whittley is an experienced naturalist and passionate birder in the United Kingdom. She founded the Wildlife Art Agency to encourage artists to try their hand at nature illustration and currently runs the Pinkfoot Gallery and Red Hare Publishing, both in Norfolk.

Peter D. Scott is a science illustrator based in the United Kingdom. He specializes in natural history but also does work on other sciences, history, and transportation, among others. His work has appeared in magazines, exhibitions, TV documentaries, and more than fifty books.