Dr. Gundry's Diet Evolution: Turn Off the Genes That Are Killing You and Your Waistline (Paperback)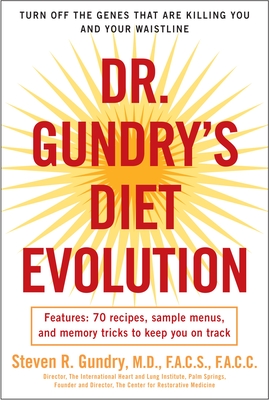 $17.99

In Warehouse, Usually Ships to Store in 1-5 Days
Description
---
"Dr. Gundry has crafted a wise program with a powerful track record."
–Mehmet Oz, M.D.

Does losing weight and staying healthy feel like a battle? Well, it's really a war. Your enemies are your own genes, backed by millions of years of evolution, and the only way to win is to outsmart them. Renowned surgeon and founder of Gundry MD, Dr. Steven Gundry's revolutionary book shares the health secrets other doctors won't tell you:

• Why plants are "good" for you because they're "bad" for you, and meat is "bad" because it's "good" for you
• Why plateauing on this diet is actually a sign that you're on the right track
• Why artificial sweeteners have the same effects as sugar on your health and your waistline
• Why taking antacids, statins, and drugs for high blood pressure and arthritis masks health issues instead of addressing them

Along with the meal planner, 70 delicious recipes, and inspirational stories, Dr. Gundry's easy-to-memorize tips will keep you healthy and on course.
About the Author
---
Steven R. Gundry, M.D., F.A.C.S., F.A.C.C., is the inventor of some of the most widely used heart-surgery devices and is renowned as an infant heart-transplant surgeon. Now, through his Center for Restorative Medicine, he helps patients avoid cardiac and other surgical procedures by using nutrition to reverse heart disease, diabetes, and arthritis. By bridging the gap between Dr. Atkins and Dr. Ornish and combining the best of the raw-foods and sugar-free plans, Dr. Gundry brings us to the next stage of diet evolution.
Praise For…
---
"After my bypass surgery, I read every diet and health book I could find. Dr Gundry's book is revolutionary because its new science is presented in a creative, fun, and easy-to-understand way. You'll want to take immediate action for long-term results; the plan is simple and life-changing."
—Greg Renker, co-founder of Guthy-Renker

"A seasoned veteran of bypassing your heart blockages teaches you how to avoid his services. Dr. Gundry has crafted a wise program with a powerful track record."
—Mehmet Oz, Professor and Vice Chair of Surgery, NY Presbyterian/Columbia Medical Center

"After an impressive career as a physician and surgeon in the treatment of heart disease, Steve Gundry has been inspired to apply his experience, intellect and scientific background to preventive health measures. This practical and easily readable book describes Gundry's advice for heart health and general physical improvement. While people have no choice in their heredity and genetic composition, they can work with the inherited genes and improve their personal comfort and possibly extend life expectancy. His personal experience with control of obesity contains timely advice on this issue affecting modern society."
—Denton A. Cooley, M.D., President and Surgeon-in-Chief, Texas Heart Institute, Houston, Texas