The Dain Curse, The Glass Key, and Selected Stories: Introduction by James Ellroy (Everyman's Library Contemporary Classics Series) (Hardcover)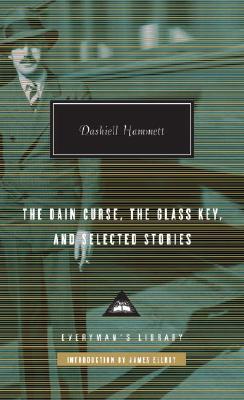 $24.00
Maybe Unavailable, Ask us
Description
---
One of the most popular American writers of the twentieth century, Dashiell Hammett gave us crime fiction stripped down to its most subtle and searing essentials and, at the same time, elevated to literature. The diamond-sharp prose and artfully manipulated intrigue for which he is known are on full display in the four classic short stories and two riveting novels published here in one volume.
The Continental Op, Hammett's anonymous antihero, was the indelible prototype for generations of tough-guy detectives. Single-minded, emotionally detached, and decidedly unglamorous, he narrates the four linked stories collected here—"The House in Turk Street," "The Girl with the Silver Eyes," "The Big Knockover," and "$106,000 Blood Money." In THE DAIN CURSE, the Continental Op takes on his most bizarre case, that of a wealthy young woman who appears to be the victim of a deadly family curse. And THE GLASS KEY—Hammett's own favorite among his works—features his most cynical and morally ambiguous hero, Ned Beaumont, caught in a hard-boiled love triangle.
About the Author
---
Dashiell Hammett was born in Maryland in 1894 and died in 1961. After working as a private detective and serving in World War I, he turned to writing and became the unquestioned master of detective-story fiction in America.

James Ellroy is the author of The Black Dahlia, My Dark Places, and L. A. Confidential.
Praise For…
---
"Dashiell Hammett is an original. He is a master of the detective novel, yes, but also one hell of a writer."
—BOSTON GLOBE

"Hammett could no more vulgarize his imaginative methods than he could his spare and elegant style . . . Hammett's art . . . transform[ed] the possibilities for art among his successors."
—NEW YORK TIMES

"These [Continental Op] tales show Hammett writing with the precision of a diamond cutter."
—NEWSWEEK

"Not just the first of the tough school of crime-writing but the best."
—THE TIMES (London)

"Hammett had to fit social realism into a suffocatingly contrived form. He did it with language—densely spare exposition and multilayered dialogue. He gave us a spellbinding male discourse—The Maneuver as moral crusade, the job holder's aria and torch song."
—from the Introduction by James Ellroy