Playing Indian (Yale Historical Publications Series) (Paperback)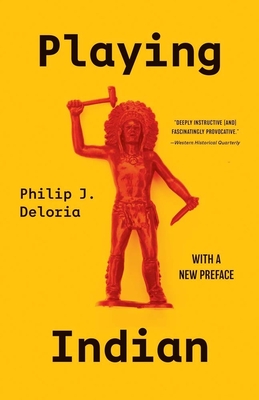 Description
---
"[A] brilliant book. . . . This book reminds us that at least one question about America has been settled. Contrary to the conventional wisdom that prevailed throughout most of our history, the Indians will remain."—Peter Iverson, American Historical Review
 
This provocative book, now reissued with a new preface, explores how white Americans have used their ideas about Native Americans to shape national identity in different eras—and how Indian people have reacted to these imitations of their native dress, language, and ritual.
 
"Not since I first read Michel Foucault, Fredric Jameson, or bell hooks has a text crackled with so much theoretical frisson. Its historical insights are rich and political repercussions profound. American culture will never look the same."—Joel Martin, author of Sacred Revolt and Native American Religion
 
Winner of the 1999 Outstanding Book Award given by the Gustavus Myers Center for the Study of Bigotry and Human Rights in North America
About the Author
---
Philip J. Deloria is Leverett Saltonstall Professor of History at Harvard University. He is the author of Indians in Unexpected Places and Becoming Mary Sully, and coauthor of American Studies: A User's Guide.
Praise For…
---
"[A] convincing study. . . . Deloria, builds his case with caution and precision, careful to avoid sweeping claims." —Michael Kenney, Boston Globe
"Deloria argues [that] nothing is so ideologically weighted as a seemingly innocent pleasure. Playing Indian speaks volumes, and it says much more than 'How!'"—Jeremy MacClancy, Times Higher Education Supplement
"'What, then, is the American, this new man?,' asked J. Hector St. John de Crevecoeur in 1872. Every American generation since has asked the same question. And, according to this lucid, nimble and occasionally, frolicsome re-examination of the history of the United States, it is one that Americans have often tried to answer by 'playing Indian.'"—Jim Boothroyd, Times Literary Supplement
"Deloria demonstrates how 'Indian play' has always taken on new shape and focus to engage the most pressing issues of a particular historical moment, and he notes that American views of Indians tell us much more about Americans than they do about Indians. . . . Americans need Indians in order to define themselves as Americans, asserts Deloria. Beginning before the Boston Tea Party, and continuing into the present, Americans have adopted Indian attire, images, and traditions for both political and individual needs. This important book belongs in all American history collections."—Library Journal
"[A] brilliant book. . . . This book reminds us that at least one question about America has been settled. Contrary to the conventional wisdom that prevailed throughout most of our history, the Indians will remain."—Peter Iverson, American Historical Review
"Deloria's Playing Indian traces whites' ambivalent fascination with Native Americans from the earliest days of the U.S. republic. . . . This book persuaded me that images of Indians and Indianness . . . have been an enduring, important component of the symbolic underpinnings of the ongoing American construction project."—Joane Nagel, American Quarterly

"Deloria's unique work brings nuance and insight to the often-noted phenomenon of basing a self-image on perceptions, real and imagined of the 'other.' The author succeeds admirably in tracing this complex process from the donning of Indian regalia at the Boston Tea Party to the contemporary adopting of Indian identities by New Age 'Reincarnated Again Shamans.' More important, he shows Indians to be active and creative agents in this process, and though often exploited, marginalized, or supplanted, still able to use their ventral iconic position as a means to secure and transform their own identities. Written in a meticulous, lively, and at times humorous style this multidisciplinary work is ideal for courses in American studies, history, ethics, anthropology, and literature."—Choice
"Deloria's study is attentive to the pressures that 'play' Indians introduced into the self-conceptions (and tribal/national conceptions) of 'real' Indians. . . . [O]ffers subtle and nuanced accounts."—Arnold Krupat, College English
"Playing Indian is an important and exciting book for the material it gathers and explores, and for the work it does unpacking the ideologies at work in creating American national identity. It's one of those books that you can't believe you got along without before, and will quickly become a key and crucial text for students and scholars of American and American Indian studies."—Jacqueline Shea Murphy, Dark Night Field Notes

"Whether the focus is on the Boston colonists whooping it up, or on new age, counterculture types setting up tepees in back-to-nature settings, Deloria makes a convincing case for ways in which Americans have used Indian symbols and items for their own purposes and identities."—Dianne Zuckerman, Denver Post

"A provocative study of the role of American Indians in forming the character of the U.S. . . . A valuable contribution to Native American studies, and worthy of attention by readers in many fields."—Kirkus Reviews
"This is a rich and sophisticated study, for Deloria excels in reading the activities of these different groups for underlying motivations, and the meanings they created in playing Indian."—Gillian Poulter, Left History
"Playing Indian is not only deeply instructive but fascinatingly provocative as well."—Arnold Krupat, Western Historical Quarterly
"[An] important book, a bright illumination about the history of white America's understating of Indians and of itself.
Playing Indian
is an essential text in American cultural history."—Carl Hallberg,
Annals of Wyoming: The Wyoming History Journal
Winner for the 1999 Outstanding Book Award given by the Gustavus Myers Center for the Study of Bigotry and Human Rights in North America
"Not since I first read Michel Foucault, Fredric Jameson, or bell hooks has a text crackled with so much theoretical frisson. Its historical insights are rich and political repercussions profound. American culture will never look the same."—Joel Martin, author of Sacred Revolt and Native American Religions
"Playing Indian adds importantly to our understanding of how the American Indian has been, and is, perceived by non-Indian Americans. For anyone who is interested in the subject, Mr. Deloria's study is all but indispensable. It is impressive in its learning, its objectivity, and its clarity."—N. Scott Momaday
"Playing Indian will help the reader understand why, from the revelers at Merrymount to the Berkeley tribes of the 1960s, every oppositional current in America has found its way to the people called 'Indians,' and why, though (as D.H. Lawrence said) the Red Indians will never again possess the broad lands of America, their spirit will."—Noel Ignatiev, author of How the Irish Became White, and co-editor of Race Traitor
"Exciting, persuasive, and unlike anything else in the literature, Playing Indian offers new insights into the interplay of identities in American society."—Richard White, University of Washington
"Through hard-edged interchange between historical description and razor-sharp analysis, Phil Deloria is able to show how the phenomenon of Indian-playing has operated in the United States since before the founding of the republic. It is a terrific book, well worth reading and wonderful to teach."—Robert Warrior, Stanford University