Who's on First?: New and Selected Poems (Phoenix Poets) (Paperback)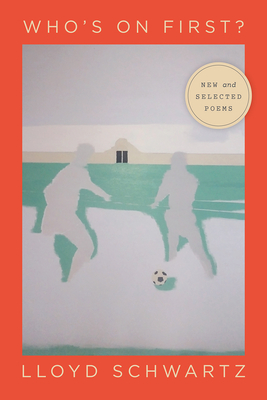 Description
---
New and selected poems by renowned poet Lloyd Schwartz.
 
For more than four decades, readers and critics have found Lloyd Schwartz's poems unlike anyone else's—a rare combination of the heartbreaking and the hilarious. With his ear for the poetry of the vernacular, Schwartz offers us a memorable cast of characters—both real and imagined, foolish and oracular. Readers experience his mother's piercing flashes of memory, the perverse comic wisdom of Gracie Allen, the uninhibited yet loving exhibitionists of antique pornography, and eager travelers crossing America in a club-car or waiting in a Brazilian airport. Schwartz listens to these people without judging—understanding that they are all trying to live their lives, whenever possible, with tenderness, humor, and grace.

Who's on First? brings together a selection of poems from all of Schwartz's previous collections along with eagerly awaited new poems, highlighting his formal inventiveness in tangling and untangling the yarn of comedy and pathos. Underlying all of these poems is the question of what it takes and what it costs to make art.
 
About the Author
---
Lloyd Schwartz is the Frederick S. Troy Professor of English Emeritus at the University of Massachusetts Boston, a longtime commentator on classical music and the arts for National Public Radio's Fresh Air, and a noted editor of Elizabeth Bishop's poetry and prose. He has been awarded the Pulitzer Prize for Criticism, Guggenheim and National Endowment for the Arts fellowships in poetry, and the Poet Laureateship of the city of Somerville, Massachusetts. His poems have appeared in the New Yorker, New Republic, and Atlantic, and have been selected for the Pushcart Prize, The Best American Poetry, and The Best of the Best American Poetry. Among his poetry books are Little Kisses, Cairo Traffic, and Goodnight, Gracie, all published by the University of Chicago Press.
 
Praise For…
---
"A triumph of a collection. . . Who's on First?, a volume of new and selected work, gathers poems from each of Schwartz's previous four collections, as well as welcome and thrilling new work. These are not grim poems, but death hovers. Schwartz pays much attention to work — specifically the work of art-making, of devoting one's life to music, painting, writing — but our main task, he seems to say, our highest effort, is preparing for death. . . . Part of the job of the poet is to bring the light to the space between what we sense and what we understand. And so Schwartz does, a glint in the eye, a flash of grin, and a profound sense of the ways everything and all of us are all the time vanishing."
— Nina MacLaughlin

"Schwartz presents a new and selected collection documenting an expansive breadth of work centered on dialogue and singular characters that is full of linguistic play, autobiography, and a philosophical and satirical urgency in addressing family and romantic relationships. . . . Schwartz creates a barrage of self-referential and psychological thoughts along with quotes from movies that pummel the reader with their vitality, their revelations, and their questioning until all is understood, thanks to the poet's blunt wisdom and grace."
— Booklist

"Schwartz is, by any measure, a potent force in American letters. . . . Schwartz's poetry, as evidenced by Who's on First?, Schwartz's new collection of selected and new poems, resembles the man: humane, artful, erudite complexity overlaid with a kind of humble simplicity—real feeling, real pain and real darkness, held at bay with warmth and wisdom and wit. These are poems about love, often doomed—love for a beloved who won't love you back in the way you need to be loved; love for a dying mother, love for a friend who breaks off the friendship without warning or word. (Schwartz has, like his mentor and friend Bishop, mastered the essential human art of loss.) But they'll also make you laugh out loud."
— Sam Cha

"As in all his collections, the poems in Schwartz's Who's on First? are distinguished by their unsentimental but heartbreaking tenderness, Schwartz's pitch perfect ear for dialogue, his great sense of humor, and a kind of prose like expansiveness that is never slack or merely prose. His long lines, often coinciding with the sentence generate a sly rhythm that depends on an underlying meter that the rhythm disguises even while soliciting. These poems are funny and deeply disquieting, intimate yet decorous, and by that I mean they strike an ever-changing just right unanticipated balance between disclosure and withholding, statement and image, descriptive detail and discursiveness. Schwartz is great company, humane, considerate, and incredibly moving."
— Alan Shapiro, author of Against Translation

"To read Schwartz's poems is to hear voices. From his first book in 1981 to the striking new work, he plunges us into a phantasmagorical documentary. We become eavesdroppers and voyeurs of the whole human parade—desperate intimacies of parents and children, lovers, friends. His art finds its emblem in Titian's Marsyas, the musician faun flayed alive by Apollo. In these severe poems, Schwartz is both sacrifice and sacrificer, forcing us to see into the heart of things."
— Rosanna Warren, author of So Forth

"In a series of stark, disarming poems about his mother's dementia, Schwartz has given us a portrait of what another age would have called THE GOOD. They are collected here for the first time. You will never forget the best poems in this book."
— Frank Bidart, author of Half-Light