Secrets of the Snout: The Dog's Incredible Nose (Hardcover)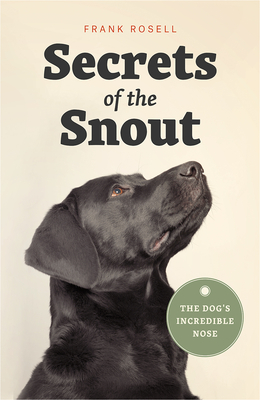 $32.20
Email or call for price.
Description
---
Dogs and humans have worked side by side for thousands of years, and over the millennia we've come to depend upon our pooches as hunters, protectors, and faithful companions. But when it comes to the extraordinary quality of man's best friend which we rely on most, the winner is clear—by a nose. In Secrets of the Snout, Frank Rosell blends storytelling and science as he sniffs out the myriad ways in which dogs have been trained to employe their incredible olfactory skills, from sussing out cancer and narcotics to locating endangered and invasive species, as well as missing persons (and golf balls).

With 300 million receptors to our mere 5 million, a dog's nose is estimated to be between 100,000 and 100 million times more sensitive than a human's. No wonder, then, that our nasally inferior species has sought to unleash the prodigious power of canine shnozzes. Rosell here takes us for a walk with a pack of superhero sniffers including Tutta, a dog with a fine nose for fine wine; the pet-finder pooch AJ; search-and-rescue dog Barry; the hunting dog Balder; the police dogs Rasko and Trixxi; the warfare dog Lisa; the cancer detection dog Jack; Tucker, who scents floating killer whale feces; and even Elvis, who can smell when you're ovulating. With each dog, Rosell turns his nose to the evolution of the unique olfactory systems involved, which odors dogs detect, and how they do it.

A celebration of how the canine sense for scents works—and works for us—Secrets of the Snout will have dog lovers, trainers, and researchers alike all howling with delight. Exploring this most pointed of canine wonders, Rosell reveals the often surprising ways in which dogs are bettering our world, one nose at a time.
About the Author
---
Marc Bekoff is professor emeritus of ecology and evolutionary biology at the University of Colorado, Boulder. He has published more than thirty books, is a former Guggenheim Fellow, and was awarded the Exemplar Award from the Animal Behavior Society for long-term significant contributions to the field of animal behavior.
Praise For…
---
"People seeking to employ sniffer dogs in their work will find this detailed science report extremely useful."
— Booklist

"In this fascinating study, behavioural ecologist Frank Rosell guides us through compelling research on olfaction-related canine ethology, physiology and neuroscience."
— Nature

"A fascinating and encyclopedic look at dogs' amazing scent abilities."
— The Bark

"As a beaver researcher, Frank Rosell had the inspired idea to use the dog nose to distinguish castoreum, the odorant beavers leave on their territories, and anal gland secretions. In this encyclopedic compendium, Rosell details all the things he then learned that the fantastic dog nose can find, from the spruce bark beetle to golf balls to cows in estrus. Any dog owner who has been, as I have, following their dog's nose, will be fascinated at this long list of what the nose of the companion by our sides can do."
— Alexandra Horowitz, author of Being a Dog

"This is a wonderful book, well researched and up to date. An exhaustive work that will help everyone who uses dogs for their scenting capabilities, it will also appeal to pet owners who want to learn more about their dogs' noses and what they can detect."
— Susan Bulanda, certified animal behavior consultant and SAR dog expert