Why Animals Matter: Animal Consciousness, Animal Welfare, and Human Well-Being (Hardcover)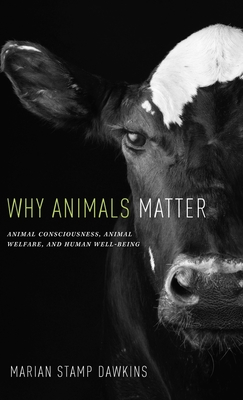 $43.64

In Warehouse, Usually Ships to Store in 1-5 Days
Description
---
Renowned authority Marian Stamp Dawkins' new work presents an illuminating and urgent argument for the need to rethink animal welfare. In the vein of Temple Grandin's work, Dawkins explains that this welfare must be made to work in practice to have any effect, and cannot be tinged by
anthropomorphism and claims of animal consciousness, which lack firm empirical evidence and are often freighted with controversy and high emotions. Instead, animal-welfare efforts must focus on science and on fully appreciating the critical role animals play in human welfare. With growing concern
over such issues as climate change and food shortages, how we treat those animals on which we depend for survival needs to be put squarely on the public agenda. Dawkins seeks to do this by offering a more complete understanding of how animals help us. In the end, it is human self-interest that will
drive changes in our treatment of animals. Taking positions that might surprise and will certainly challenge animal lovers, Dawkins presents a persuasive argument for why animals truly matter.

About the Author
---
Marian Stamp Dawkins is Professor of Animal Behavior and Mary Snow Fellow in Biological Sciences, Somerville College, Oxford University. She was awarded the 2009 Association for the Study of Animal Behavior medal for contributions to animal behavior.