Hungover: The Morning After and One Man's Quest for the Cure (Paperback)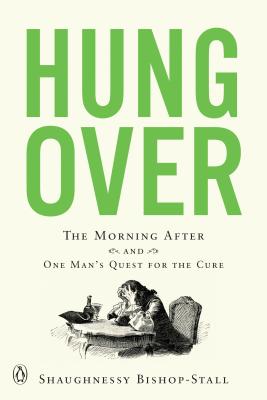 $17.00

On Our Shelves Now (Updated at the end of every day)
Description
---
"Bishop-Stall insists that hangovers… [are] worthy of a cure. After years of dogged research around the globe, he finds one — just in time for the holidays." —Washington Post

"[An] irreverent, well-oiled memoir…Bishop-Stall packs his book with humorous and enlightening asides about alcohol." —The Wall Street Journal 

One intrepid reporter's quest to learn everything there is to know about hangovers, trying all of the cures he can find and explaining how (and if) they work, all so rest of us don't have to.

We've all been there. One minute you're fast asleep, and in the next you're tumbling from dreams of deserts and demons, into semi-consciousness, mouth full of sand, head throbbing. You're hungover. Courageous journalist Shaughnessy Bishop-Stall has gone to the front lines of humanity's age-old fight against hangovers to settle once and for all the best way to get rid of the aftereffects of a night of indulgence (short of not drinking in the first place).

Hangovers have plagued human beings for about as long as civilization has existed (and arguably longer), so there has been plenty of time for cures to be concocted. But even in 2018, little is actually known about hangovers, and less still about how to cure them. Cutting through the rumor and the myth, Hungover explores everything from polar bear swims, to saline IV drips, to the age-old hair of the dog, to let us all know which ones actually work. And along the way, Bishop-Stall regales readers with stories from humanity's long and fraught relationship with booze, and shares the advice of everyone from Kingsley Amis to a man in a pub.
About the Author
---
Shaughnessy Bishop-Stall's first book was an account of the year he spent living with the homeless in Toronto's infamous Tent City. Down to This: Squalor and Splendor in a Big-City Shantytown was nominated for The Drainie-Taylor Biography Prize, the Trillium Award, the City of Toronto Book Award and the 2005 Pearson Writers' Trust of Canada Non-Fiction Prize. The following year, he was awarded the Knowlton Nash Journalism Fellowship at Massey College and also played the role of Jason—a bad-mannered, well-dressed journalist—on CBC-TV's The Newsroom. His first novel, Ghosted, was nominated for the 2011 Amazon First Novel Award. He currently teaches at the University of Toronto, writes a regular column on fatherhood for SHARP Magazine and is the proprietor of The Lowdown—a subterranean watering hole in Toronto's Kensington Market—which is, among other things, the ideal place to finish research on his new book Hungover: The Morning After and One Man's Quest for the Cure.
Praise For…
---
"In his irreverent, well-oiled memoir, HUNGOVER, Shaughnessy Bishop-Stall sets out on a liver-punishing world tour in search of a cure for the condition. With a heavy pour of gonzo styling, the author samples the local culture not only through the bottle but by throwing himself into activities that only a madman would voluntarily do while hung over… Between accounts of pub crawls, Oktoberfest and meetings with the heads of hangover-cure companies, Mr. Bishop-Stall packs his book with humorous and enlightening asides about alcohol in literature (there's lots of it), athletes as accomplished at the bar as on the field (David Wells pitched a perfect game after a rager) and more." —Brian Kelly, The Wall Street Journal

"Who knew hangovers could be so much fun? Evidently Shaughnessy Bishop-Stall, who brings us on an engrossing, hilarious, and sometimes painful tour through the history and science of the morning after."  —Bianca Bosker, New York Times bestselling author of Cork Dork

"The Canadian writer and actor Shaughnessy Bishop-Stall is a fine person to write a book about hangovers, not only because he's a tenacious researcher but also because he's willing to get thoroughly torn up on a consistent basis in colorful circumstances. He gorges on single-malt Scotch in Las Vegas, swallows a dozen pints of ale in a series of English pubs, binges on tequila and collapses beside a cactus near the Mexican border, wears lederhosen to a German beer festival and so forth. Reading his chronicle, Hungover: The Morning After and One Man's Quest for the Cure has an effect not unlike recovering from food poisoning or slipping into a warm house on a frigid night. You turn the pages thinking, 'Thank God I don't feel like that right now.' Or maybe, 'Thank God I'm not this guy." '—The New York Times Book Review

"Wow. The writing in this book was so vivid, there were actually moments reading it that I started to feel like I was having the symptoms of a hangover, even if I'd had nothing to drink the night before." —Ari Schapiro, NPR

"Who knew subject matter so (literally) uncomfortable could be so much damn fun? Shaughnessy Bishop-Stall is the perfect endearingly flawed and funny narrator to take us on this wild, world-wide adventure into the history of our painful mornings after. Whether he's piloting a fighter plane in Vegas, chatting with a blacksmith in Devon, cheating death in the desert and the alps, or attempting 12 pints in 12 pubs, his daring, wit and insight never disappoint -- all with, it would seem, a blazing hangover. Part science, part folklore, part string of the author's very bad ideas with good intentions, Hungover is a highly knowledgeable and ridiculously enjoyable ride."  —Stacey May Fowles, author of Baseball Life Advice

"Despite millennia of drinking, there is no consensus on a cure for excessive drinking. But a cure is exactly what Shaughnessy Bishop-Stall set out to find in his new book Hungover. Drawing on a decade of research, and years more of informal research, Bishop-Stall's quest took him around the world: drink, suffer, repeat. As he points out in the book, and as anyone who has scoured the internet for a solution to their booze-fuelled hedonism can attest, there has been little scientific research into the hangover remedy." —The Guardian

"Shaughnessy Bishop-Stall has risked life and liver to write this book, a perilous trip into many mornings after—historical, cinematic, literary and, of course, his own." —Adam Rogers, author of Proof: The Science of Booze
 
"Shaughnessy Bishop-Stall invests health, wealth and well-being in a wild Dionysian quest for a viable hangover cure. In the end he gets more than he bargained for,
and we do, too." —Linden MacIntyre, Scotiabank Giller Prize–winning author

"Shaughnessy Bishop-Stall serves up part travelogue and part confession here. At the outset, he pays some tribute to the hard-drinking English novelist and critic Kingsley Amis, who was no stranger to the hangover. Indeed, Hungover is a tribute to working through what Amis himself once described as the two components of the dreaded 'morning after': the physical side (for which there are varied remedies about which he wrote in detail). And then the metaphysical side, which, as Bishop-Stall demonstrates in eleven chapters of often disarmingly personal prose." —Forbes.com

"Bishop-Stall explores the history and treatment of hangovers with humor and amiable style." —Publishers Weekly
 
"It takes a writer as skilled as Shaughnessy Bishop-Stall to write a rip-roaring adventure story about the morning after. Thoroughly researched, rich in history and humour, against all odds, Hungover makes you wish you were there."  —Tabatha Southey

"Hangovers have haunted humans since the invention of beer and will follow us like a dirty, drunk shadow until the end of our days. But there are a few hopefuls among us who say we are not doomed to that fate. In Hungover, journalist Shaughnessy Bishop-Stall tests out hangover cures like polar bear swims and saline IV drips in an effort to figure out how to make Sunday mornings a bit more sufferable. He sorts through the fact and the fiction so you don't have to." —Inverse.com

"Fans of Mary Roach will delight in Bishop-Stall's similar knack for collecting stories and anecdotes from a quirky cast of experts, as well as his similar proclivity for fascinating tangents… Hungover is a world tour of a party, with a raucous cast of winos and experts, figures cultural and political… Reading Hungover is akin to watching The Hangover… his sense of adventure and one-liners make for a similarly uproarious ride." —Shelf Awareness