Leeva at Last (Hardcover)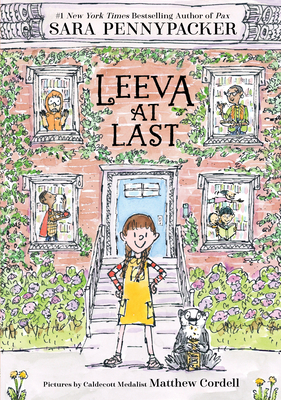 Description
---
Award-winning, bestselling author Sara Pennypacker and illustrator Matthew Cordell come together in this hilarious absurdist tale about a precocious girl who transforms her community in surprising ways.
What are people for?
That's the burning question on the mind of Leeva Spayce Thornblossom.
Fame! says Leeva's mom, the mayor of Nutsmore.
Money! says her dad, the town treasurer.
With the help of an orphaned badger, a risk-averse boy in a hazmat suit, and the town's librarians, Leeva sets off to discover her own answer—setting off a chain of events that will change Nutsmore forever.
About the Author
---
Sara Pennypacker is the author of the New York Times bestselling Pax and Pax, Journey Home; the award-winning Clementine series and its spinoff series, Waylon; and the acclaimed novels Summer of the Gypsy Moths and Here in the Real World. She divides her time between Cape Cod, MA, and Florida. You can visit her online at sarapennypacker.com.
Matthew Cordell is the acclaimed author and illustrator of the Caldecott winner Wolf in the Snow. He is also the author and illustrator of Cornbread & Poppy and Trouble Gum and the illustrator of If the S in Moose Comes Loose, Toot Toot Zoom!, Mighty Casey, Righty and Lefty, and Toby and the Snowflakes, which was written by his wife. Matthew lives in the suburbs of Chicago, Illinois, with his wife, author Julie Halpern, and their two children. You can visit him online at matthewcordell.com.
Praise For…
---
"Pennypacker delivers a hugely entertaining mix of outsized comedic villainy, dreadful parents, delicious cookies, and kindness rewarded. Leeva's sturdy instincts for both survival and justice are worth celebrating, as is the gift of books that expand her world. Splendid fun." — Kirkus Reviews
"Pennypacker tells the story with warmth and whimsy, recalling the tone and charm of Matilda. Though stuck in comically gloomy situations, Leeva is a delight, her eccentric companions are lovable, and the writing sparkles. A terrifically funny, tender tribute to the power of perseverance, community, and kindness." — Booklist
"Strongly recalling elements of Roald Dahl's Matilda, this archly narrated satire from Pennypacker slyly integrates potent themes such as fairness, responsibility, and trust." — Publishers Weekly
"Versatile Pennypacker has written a book that is by turns outrageous and wise, funny and touching, fantastical and true; Cordell's sketches contribute to the levity." — Horn Book