Hello, Molly!: A Memoir (Paperback)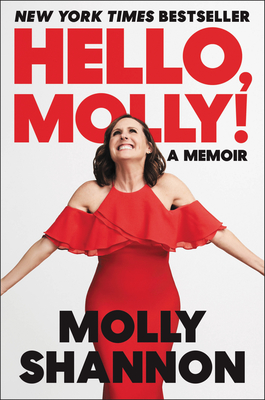 $19.99

In Warehouse, Usually Ships to Store in 1-5 Days
Description
---
A New York Times bestseller
A candid, compulsively readable, hilarious, and heartbreaking memoir of resilience and redemption by comedic genius Molly Shannon
At age four, Molly Shannon's world was shattered when she lost her mother, baby sister, and cousin in a car accident with her father at the wheel. Held together by her tender and complicated relationship with her grieving father, Molly was raised in a permissive household where her gift for improvising and role-playing blossomed alongside the fearlessness that would lead her to become a celebrated actress.
From there, Molly ventured into the wider world of New York and Los Angeles show business, where she created her own opportunities and developed her daring and empathetic comedy. Filled with behind-the-scenes stories involving everyone from Whitney Houston to Adam Sandler to Monica Lewinsky, many told for the first time here, Hello, Molly! spans Molly's time on Saturday Night Live—where she starred alongside Will Ferrell, Adam Sandler, Cheri Oteri, Tracy Morgan, and Jimmy Fallon, among many others. At the same time, it explores with humor and candor her struggle to come to terms with the legacy of her father, a man who both fostered her gifts and drive and was left with the impossible task of raising his kids alone after the loss of her mother.
Witty, winning, and told with tremendous energy and heart, Hello, Molly!, written with Sean Wilsey, sheds new and revelatory light on the life and work of one of our most talented and free-spirited performers.
About the Author
---
MOLLY SHANNON is an actress and comedian. She spent six seasons as a member of the repertory company on Saturday Night Live, primarily known for the eclectic characters she created, such as Mary Katherine Gallagher and Sally O'Malley. In 2000, she received an Emmy nomination for Outstanding Individual Performance in a Variety or Music Program. In 2013, Molly received her second Emmy nomi­nation for Outstanding Guest Actress in a Comedy Series for her work in Enlightened and again in 2018 for her portrayal of Val in NBC's award-winning comedy Will & Grace. In 2017, she was awarded the Independent Spirit Award for Best Supporting Actress for her performance in the highly acclaimed drama Other People, written and directed by SNL head writer Chris Kelly. She was most recently seen in the Academy Award–nominated crime drama Promising Young Woman and will soon reprise her lauded performance on the critically acclaimed comedy The Other Two. Molly was born in Shaker Heights, Ohio. She earned a BFA in drama from New York University's prestigious Tisch School of the Arts. She currently lives in California with her husband and two children.
SEAN WILSEY, the author of a memoir, Oh the Glory of It All, and an essay collection, More Curious, is at work on a translation of Luigi Pirandello's Uno, Nessuno e Centomila for Archipelago Books and a documentary film about 9/11, IX XI, featuring Roz Chast, Griffin Dunne, and many others (www.ixxi.nyc).
Praise For…
---
"Hello, Molly! paints a portrait of a resilient spirit persevering through tragedy and the cutthroat world of fame to build a fulfilling life for herself." — Associated Press
"Molly Shannon's memoir is filled with mischief and pathos. . . . Shannon has an uncanny knack for transgression in pursuit of higher truth. . . . Parts are as plain and strong as Hemingway, with some internal monologues that are downright Joycean. Really. It's very sad and very, very funny. Redemptive and uplifting." — New York Times
"[An] incredibly charming memoir...For every story of loss, of striving, and of doubling down in Hello, Molly!, there is also a determination to find joy and pleasure, to foster community, and to laugh." — Time
"An incredible story of resilience (along with, of course, some laughs) showing how [Molly Shannon's] upbringing influenced her remarkable career. Warm and open-hearted, this one feels like a conversation." — Real Simple
"This memoir is life-changing. I laughed. I cried. Just like being with Molly herself."  — Amy Schumer
"I grew up fully recognizing the enormity of Molly Shannon's onscreen abilities—her absurdity, her chaos, but also her grace and humanity. All of these characteristics are effortlessly portrayed in one of the most achingly beautiful memoirs I have ever read. Hello, Molly! is proof that through our stories, our past, our losses, and our brokenness shines light. From the highly relatable struggles of trying to break through as a comedic actress, to SNL, to negotiating self-identity after fame, Hello, Molly! at its finest is a vulnerable, brutally honest, and unrestrained glimpse at the human condition: how the flaws of our loved ones and the darkness of our past will continue to define us."  — Awkwafina
"Heart-breaking and hilarious, Hello, Molly! is the most inspiring memoir I've ever read. Forget what you think you know about Molly Shannon. There is a reason she is one of the greatest comic actors working today. Her story is unbelievable and told with such a charming bluntness it made me choke on my coffee more than once...It is a glimpse into the mind of a true survivor, a lesson on how one turns trauma into art, and it might just have the secret to life and happiness."  — Aubrey Plaza
"A deep and brutally honest depiction of the strong and talented woman I know, who has been able to pull the positive out of every situation and turn massive hurt into humor. Every page flows with Molly's positive yet pragmatic philosophy of life, love, family, work, and art. Filled with touching and surprising anecdotes that teeter from the nostalgic to the truly ridiculous. I was laughing and tearing up like you're supposed to do when you read a great book. Great comic, great actress, and great author. Truly. Love you, Molly, and am so happy to know you." — Adam Sandler
"Exuberant, brave, wholehearted, and hilarious, this book is exactly what you hope it will be."  — Cynthia D'Aprix Sweeney, New York Times bestselling author of Good Company and The Nest
"Equal parts funny and touching, a cut above most celebrity memoirs." — Kirkus Reviews (starred review)
"Told in Shannon's bright, irreverent voice, this memoir is equal parts touching and hilarious, a real insight into the mind of a comedic genius." — Booklist (starred review)
"Hello, Molly! is a multi-faceted love story, a candid and touching memoir. . . . [A] beautiful father-daughter story is woven throughout the memoir, which includes many funny anecdotes about Shannon's hard work, dedication, resilience, and sacrifice on her road to stardom. . . . Shannon's conversationally styled narrative reflects her wholly original brand of comedy." — Shelf Awareness
"[A] surprisingly raw and personal account...While she packs in plenty of details regarding her SNL stint, what's most resonant is Shannon's unflagging story of perseverance, perhaps best embodied by her beloved sketch character Mary Katherine Gallagher...Supremely inspiring, this will leave fans astonished." — Publishers Weekly (starred review)
"Introspective, poignant, heartbreaking and hilarious, Shannon's memoir is sensational."  — Katie Couric Media
"...while there are plenty of laughs to be found here, there's a large dose of vulnerability as well...[An] often-absorbing recollection...becoming most thoughtful when Shannon reflects on her complex relationship with her father and her mother's absence from her life." — Library Journal
"(Shannon's) vibrant reading is filled with emotion and effervescence, especially when she slides into popular characters Sally O'Malley and Mary Katherine Gallagher." — Booklist (starred review)