The Rib King: A Novel (Hardcover)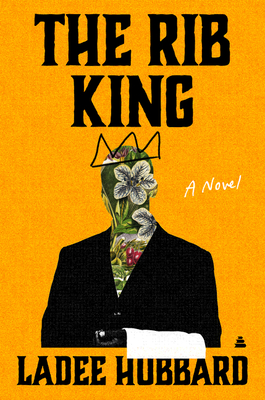 $27.99
Maybe Unavailable, Ask us
Description
---
Thrillist - 30 Books We Can't Wait to Read in 2021
Book Riot – Our Most Anticipated Releases of 2021
Real Simple – The Best New Books to Read in 2021
Chicago Review of Books – 12 Must-Read Books of January 
Book Riot – January 2021 Horoscopes and Book Recommendations 
Glamour--7 of the Best New Books in January
Vulture – 46 Books We Can't Wait to Read in 2021 
Lit Hub – Lit Hub's Most Anticipated Books of 2021 
GMA.com – 16 January reads for the new year 
Harper's Bazaar – 24 Books You Need to Read in 2021 -
The Millions – Most Anticipated: The Great First-Half 2021 Book Preview 
Popsugar – From Bravery to Outlawed – These Are the Best Books of January 2021 
Ms. Magazine – January 2021 Reads for the Rest of Us 
Bustle – The Best New Books, Week of January 18th 
Vulture – 27 Notable New Releases Over the Next Two Weeks 
Lit Hub – 14 new books to fuel your reading resolutions 
"Ultimately the reason to read The Rib King is not its timeliness or its insight into politics or Black culture, but because it accomplishes what the best fiction sets out to do: It drops you into a world you could not otherwise visit and makes you care deeply about what happens there."--BookPage (starred review)
The acclaimed author of The Talented Ribkins deconstructs painful African American stereotypes and offers a fresh and searing critique on race, class, privilege, ambition, exploitation, and the seeds of rage in America in this intricately woven and masterfully executed historical novel, set in early the twentieth century that centers around the black servants of a down-on-its heels upper-class white family.
For fifteen years August Sitwell has worked for the Barclays, a well-to-do white family who plucked him from an orphan asylum and gave him a job. The groundskeeper is part of the household's all-black staff, along with "Miss Mamie," the talented cook, pretty new maid Jennie Williams, and three young kitchen apprentices—the latest orphan boys Mr. Barclay has taken in to "civilize" boys like August.
But the Barclays fortunes have fallen, and their money is almost gone. When a prospective business associate proposes selling Miss Mamie's delicious rib sauce to local markets under the brand name "The Rib King"—using a caricature of a wildly grinning August on the label—Mr. Barclay, desperate for cash, agrees. Yet neither Miss Mamie nor August will see a dime. Humiliated, August grows increasingly distraught, his anger building to a rage that explodes in shocking tragedy.
Elegantly written and exhaustively researched, The Rib King is an unsparing examination of America's fascination with black iconography and exploitation that redefines African American stereotypes in literature. In this powerful, disturbing, and timely novel, Ladee Hubbard reveals who people actually are, and most importantly, who and what they are not.
About the Author
---
Ladee Hubbard is the author of The Rib King and The Talented Ribkins, which received the 2018 Ernest J. Gaines Award for Literary Excellence and the Hurston/Wright Legacy Award for Debut Fiction. Her writing has appeared in Guernica, The Times Literary Supplement, Copper Nickel and Callaloo. Hubbard is a recipient of a Radcliffe Institute Fellowship, a Berlin Prize Fellowship, and a Rona Jaffe Foundation Writers' Award. She has also received fellowships from MacDowell, Art Omi, the Sacatar Foundation, the Sustainable Arts Foundation, Hedgebrook, and the Virginia Center for the Creative Arts. Born in Massachusetts and raised in the U.S. Virgin Islands and Florida, Ladee Hubbard currently lives in New Orleans.
Praise For…
---
One of 2021's Best Fiction — Kirkus Reviews
"The novel goes far beyond a story of revenge. It is an engrossing account of Black genius and entrepreneurship in the early 20th century." — Atlanta Journal-Constitution
"Hubbard delivers a dazzling tour-de-force in this richly painted, perfectly timed meditation on privilege and fury." — Booklist (starred review)
"Ladee Hubbard's sophomore novel, The Rib King, is a fascinating story about the intersection of ambition, race and revenge. . . Hubbard crafts unforgettable characters and masterfully builds suspense." — Washington Post
"Hubbard's own superpower is her gift for building extraordinary worlds that examine troubled periods of America's past while shedding light on the unquestionable innovation and determination of African Americans who, perhaps improbably, thrived within them." — Los Angeles Times
"One will be impressed at all times with Hubbard's control over her historical milieu as well as her complicated, intriguing characterizations. . . . An imaginative work craftily depicting the failure of imagination that is American racism." — Kirkus Reviews
"Finely written and worth a second read, this novel would be a fantastic choice for book discussion groups. With complete faithfulness to the text, it could also make an excellent movie." — Library Journal (starred review)
"Hubbard's latest cements her status as an American original." — Publishers Weekly