Stay Gold (Hardcover)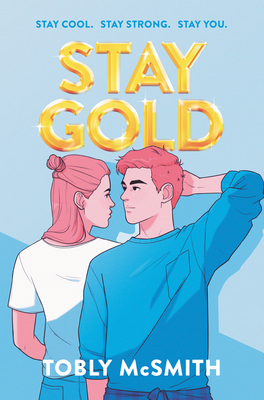 Staff Reviews
---
"Forget whiskers on kittens; correct pronouns are a few of my favorite things. [. . .] It's shocking and exhilarating. It's one small victory stacked on another."
This book had me in tears multiple times. Tobly McSmith's STAY GOLD is the story of Pony, a trans boy who just wants to go stealth (pass as a cis-gendered boy) at his new high school for senior year, and Georgia, the image-conscious cheerleader who dreams of being a  journalist and starts to fall for him. Pretty early in their friendship Pony tells Georgia his secret and what follows is a story of learning to accept things about yourself and others that you may never be able to understand. 
A lot of this story reads like a vintage WB teen soap opera, and that is not a bad thing. Teens need to see the story of transgender kids in the same spaces they see the stories of cis-gender kids. While some elements of the story in other hands could be over the top or done for shock value, in McSmith's hands they clearly come from a place of wanting to write the stories he may have looked for in his own youth. Every group deserves their 80s teen movie moment, and maybe the current generation of transgender youth can find theirs in STAY GOLD.
Content Waring: transphobic language and acts, dead-naming, misgendering, assault, homophobia, teen drug and alcohol use, parental denial of Pony's identity, suicidal ideation
— Faith
Description
---
Debut author Tobly McSmith delivers a coming-of-age teen love story about a transgender boy who's going stealth at his new Texas high school and a cisgender girl who is drawn to him, even as she's counting down the days until graduation. Perfect for fans of David Levithan, Becky Albertalli, and Jenny Han.
Pony just wants to fly under the radar during senior year. Tired from all the attention he got at his old school after coming out as transgender, he's looking for a fresh start at Hillcrest High. But it's hard to live your best life when the threat of exposure lurks down every hallway and in every bathroom.
Georgia is beginning to think there's more to life than cheerleading. She plans on keeping a low profile until graduation…which is why she promised herself that dating was officially a no-go this year.
Then, on the very first day of school, the new guy and the cheerleader lock eyes. How is Pony supposed to stay stealth when he wants to get close to a girl like Georgia? How is Georgia supposed to keep her promise when sparks start flying with a boy like Pony?
Funny and poignant, clear-eyed and hopeful, Stay Gold is a story about finding love—and finding yourself.
About the Author
---
Tobly McSmith is the co-creator/writer of seven somewhat successful musical parodies, including Friends! The Musical Parody. Tobly was born in Texas. He now lives in New York City with his two cats, Buster and Bananas McSmith. Tobly is proud to be transgender.
Praise For…
---
"A necessary read that favors compassion and understanding."
— School Library Journal (starred review)

"A rom-com with heart and purpose."
— Publishers Weekly

"[A] compelling #OwnVoices story that is populated by sympathetic characters."
— Booklist