Warriors Super Edition: Hawkwing's Journey (Paperback)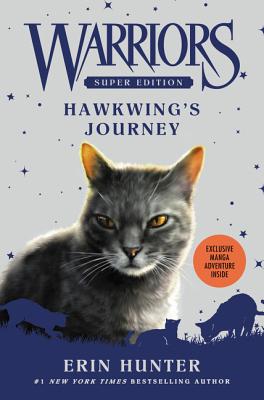 $7.99
Description
---
An epic stand-alone adventure in Erin Hunter's #1 nationally bestselling Warriors series!
Set just before the events of the books in A Vision of Shadows, this Super Edition follows Hawkwing, deputy of SkyClan, on a journey that will change the fate of all five warrior Clans.
The cats of SkyClan are facing a darkness unlike any they have seen before. Their only hope is to seek out the kin of Firestar, the cat who once brought their Clan back from obscurity. But even if they find the other four warrior Clans, SkyClan's time in the gorge territory may truly be at an end….
Join the legion of fans who have discovered the epic adventures, fierce warrior cats, and the thrilling fantasy world of the mega-bestselling Warriors series. This stand-alone entry is perfect for new readers and dedicated fans alike.
Hawkwing's Journey also includes an exclusive ten-page Warriors manga adventure!
About the Author
---
Erin Hunter is inspired by a love of animals and a fascination with the ferocity of the natural world. As well as having great respect for nature in all its forms, Erin enjoys creating rich, mythical explanations for animal behavior. She is the author of the Warriors, Seekers, Survivors, and Bravelands series. She lives in the UK. Visit her online at www.warriorcats.com.