Ramona Quimby, Age 8 Read-Aloud Edition (Hardcover)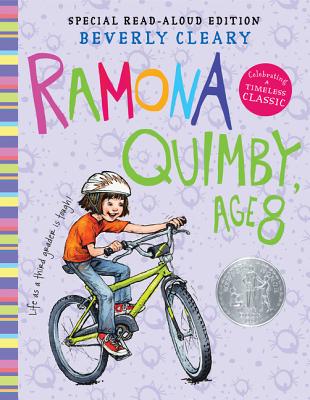 $17.99
Maybe Unavailable, Ask us
Other Books in Series
This is book number 6 in the Ramona series.
Description
---
To celebrate this timeless classic, Beverly Cleary's Ramona Quimby, Age 8 can now be enjoyed as a read-aloud edition. With large type and oversized trim, this version will encourage vocal participation—whether at home, in school, or on one's own!
Riding the school bus alone isn't the only new experience making third grade exciting for Ramona Quimby. From befriending a boy called Yard Ape to delivering her book report in the style of a television commercial, Ramona's enthusiasm for life is infectious and irresistible.
That's not to say all is perfect. Mr. Quimby's return to college means that the whole family must pitch in to make ends meet. Having to go to the Kemps' house after school is Ramona's own particular burden—especially the chore of being nice to pesky little Willa Jean. When Ramona gets sick and throws up in class, she feels as though things can't get worse. But with all the pluck we've come to expect from Ramona, she emerges smiling with her head held high.
In this Newbery Honor Book, available now with an enlarged trim, easy-to-read text, and black-and-white illustrations by Jacqueline Rogers, Beverly Cleary lovingly chronicles Ramona Quimby's memorable experiences.
About the Author
---
Beverly Cleary is one of America's most beloved authors. As a child, she struggled with reading and writing. But by third grade, after spending much time in her public library in Portland, Oregon, she found her skills had greatly improved. Before long, her school librarian was saying that she should write children's books when she grew up.
Instead she became a librarian. When a young boy asked her, "Where are the books about kids like us?" she remembered her teacher's encouragement and was inspired to write the books she'd longed to read but couldn't find when she was younger. She based her funny stories on her own neighborhood experiences and the sort of children she knew. And so, the Klickitat Street gang was born!
Mrs. Cleary's books have earned her many prestigious awards, including the American Library Association's Laura Ingalls Wilder Award, presented to her in recognition of her lasting contribution to children's literature. Dear Mr. Henshaw won the Newbery Medal, and Ramona Quimby, Age 8 and Ramona and Her Father have been named Newbery Honor Books. Her characters, including Beezus and Ramona Quimby, Henry Huggins, and Ralph, the motorcycle-riding mouse, have delighted children for generations.
Jaqueline Rogers has been a professional children's book illustrator for more than twenty years and has worked on nearly one hundred children's books.