I Shall Wear Midnight (Tiffany Aching #4) (Paperback)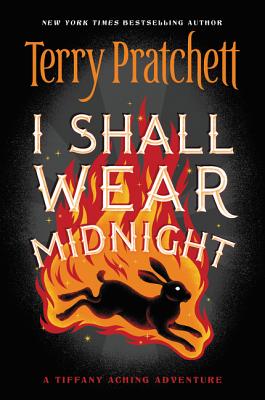 Other Books in Series
This is book number 4 in the Tiffany Aching series.
Description
---
The fourth in a series of Discworld novels starring the young witch Tiffany Aching.
As the witch of the Chalk, Tiffany Aching performs the distinctly unglamorous work of caring for the needy. But someone—or something—is inciting fear, generating dark thoughts and angry murmurs against witches. Tiffany must find the source of unrest and defeat the evil at its root. Aided by the tiny-but-tough Wee Free Men, Tiffany faces a dire challenge, for if she falls, the whole Chalk falls with her. . . .
About the Author
---
Sir Terry Pratchett was the internationally bestselling author of more than thirty books, including his phenomenally successful Discworld series. His young adult novel, The Amazing Maurice and His Educated Rodents, won the Carnegie Medal, and Where's My Cow?, his Discworld book for "readers of all ages," was a New York Times bestseller. His novels have sold more than seventy five million (give or take a few million) copies worldwide. Named an Officer of the British Empire "for services to literature," Pratchett lived in England. He died in 2015 at the age of sixty-six.
Praise For…
---
"At once touchingly poignant and uproariously hilarious, this novel is a splendid goodbye to a batch of characters who will be missed by readers who still must admit that, with this fourth volume, their stories have been well and thoroughly told." — Bulletin of the Center for Children's Books (starred review)
"Tiffany is Hermione Granger, Gaiman's Coraline, and Pullman's Lyra Belacqua rolled into one." — Voice of Youth Advocates (VOYA) (starred review)
"Enthralling and rewarding." — Publishers Weekly (starred review)
"Side-splittingly funny." — Kirkus Reviews (starred review)
"One of the most entertaining and literarily rich fantasies for young adults available. Funny, thought-provoking, and completely engaging from first to last." — Horn Book Magazine
"In terms of pure humor per square word, Pratchett may be the cheeriest writer around." — ALA Booklist
"Glorious." — School Library Journal (starred review)
"Pratchett's skill as a storyteller soars." — Rocky Mountain News